Dr. Stephanie Maj | Clinic Director
Dr. Stephanie Maj has been committed to serving families in the Chicago area since 1996.  Dr. Maj is the leading expert in the area when it comes to pediatric, pregnancy and family wellness care.
Dr. Maj is an author, podcast host, international speaker and has been in practice over 20 years!
---
Hi, my name is Dr. Stephanie Maj. From my earliest memory, I had always wanted to be a doctor. A pediatrician to be exact. Through my undergraduate studies at Ohio University, I was a premed/nutrition major and just assumed my path was to be a medical doctor. After going through the application process, I realized that there was something that didn't fit about me and traditional medicine. I decided against that career for reasons that were not fully formed in my mind and have since become crystal clear to me. After completing my treatment plan with my chiropractor, I not only healed the sprain in my neck from my car accident, my lifelong headaches went away as well.
After that experience, l decided that I needed to get my life moving in a better direction so off I went to Chicago to chiropractic school. Chiropractic school is a 5 year program, very similar to medical school except when medical students go into the hospitals, chiropractic students study the biomechanics, neurology, and function of the body deeper. I spent my last year and a half of school in clinics, helping the community and firming up my techniques of diagnosis and treatment.
I opened Community Chiropractic on April 1, 1996, my 30th birthday. I have operated a family-oriented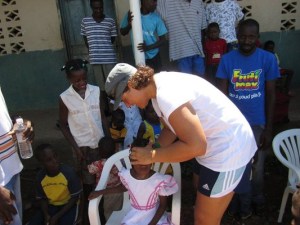 wellness practice in  Chicago where i specialize in returning people back to health.  I am certified in the Webster Technique & Pediatrics from the International Chiropractic Pediatric Association.
You Can Be Well
The second edition of my book, You Can Be Well, was released in 2013. In this book I discuss the 5 vital steps to wellness. Inspired by chiropractic missions that I participated in both the Dominican Republic and Haiti, I created my own mission work right in my home town of Chicago. I have volunteered my time at the Night Ministry, a homeless organization, where I adjust homeless youth on the streets as well as in their local shelter.
Community Chiropractic is filled with people in various stages of health. We have sick people on the road to getting well and we have healthy people that utilize chiropractic care as a means of keeping their body functioning optimally. There are young families, athletes and everything in-between. Our hope is that we can be the doctors that lead you on your journey to health and wellness!